April 26, 2016
Come spend the day with your camera!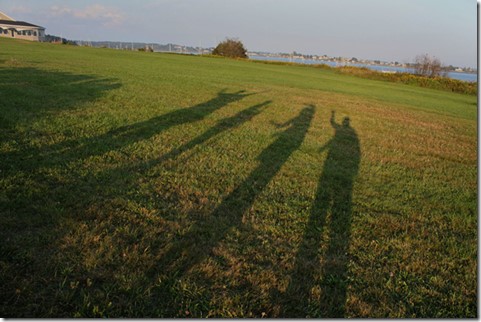 Saturday May 14th, 2016: You start the day before you even arrive at Sanctuary Studios with a Scavenger Hunt for 20 easy to find items that you photograph and then bring your best 20 shots to share with everyone while we have coffee, pastries, and fresh fruit at 9:30am. Of course there is a prize for the best of all 20 items! The day ends at 5pm after the model shoot!
The list is emailed to you in advance so you have time....for example I'll give you a head start as one of the items might say "shoot shadows"....the shadows can be of anything..you, your dog, trees....that's the challenge to find an something interesting or create the interest! This is one of my favorite shadows showing part of a group of photographers who did a field trip with me in Maine where we rented a cottage on the water!
This workshop will include a slide show of tips for taking better photos, discussions of copyright, model releases along with hand out of samples, there will be a mat cutting demonstration by my husband artist Hilmar Gottesthal at 11:30 while I get the buffet lunch set up.
In the afternoon we have discussions of how and where to show and sell your work, (there is a syllabus with details discussed) brief field trip around the immediate area to shoot historic spring house and scenic 40 overlook. At 3 pm we will have an incredible model who is Miss Hampshire County, WV who needs some new photos. During the shoot we will talk about working with people, for weddings, senior class photos, and fine art photos. Each photographer will be given a chance to pose the model and besides several different outfits she will model we have a variety of props, hats, jackets, gloves, for you to choose from to create for your own unique photos. Fee $75 includes lunch. (let me know of any food allergies or are vegetarian (do you do salmon?) To register send either the full fee or a down payment of $35 to my attention: It's a fun informal day good for beginners who can learn from the more experienced photographers who come just to enjoy the day and stretch their artistic eye! Hope to see you here for the event.
Penny Knobel-Besa, 13910 Scofield Rd. Flintstone, MD. 21530. Call or
email
if you have questions (301)478-2735.