April 17, 2015
During May there will be two solo shows at TAG/The Artists' Gallery.
Joanna Morrison
's "
In the Balance
" will feature new sculptures created from wood and mixed media. With a theme of balance and movement, these pieces are inspired by Alexander Calder's stabiles: stand-alone interlocked pieces made of wood, not metal. Some are richly painted, while others are natural wood.
Morrison said she started the series by exploring organic shapes that suggested birds, flight and growth. "I picked up where I left off in 2012, with painted plywood cutouts joined by matched notches," she said. "The result is free-standing works that resemble metal pieces by Calder and others."
The first piece in the series, "In Flight," inspired the show title of "In the Balance." All six parts of the five-foot-tall work hang from one point of contact with a vertical rod.
Other pieces in the series rock, stack, lean, and otherwise explore balance and movement.
"I don't want people to go to sleep when they look at my work," Morrison said. "I want them to say, "Ooh, that's interesting! What's the story behind this work?"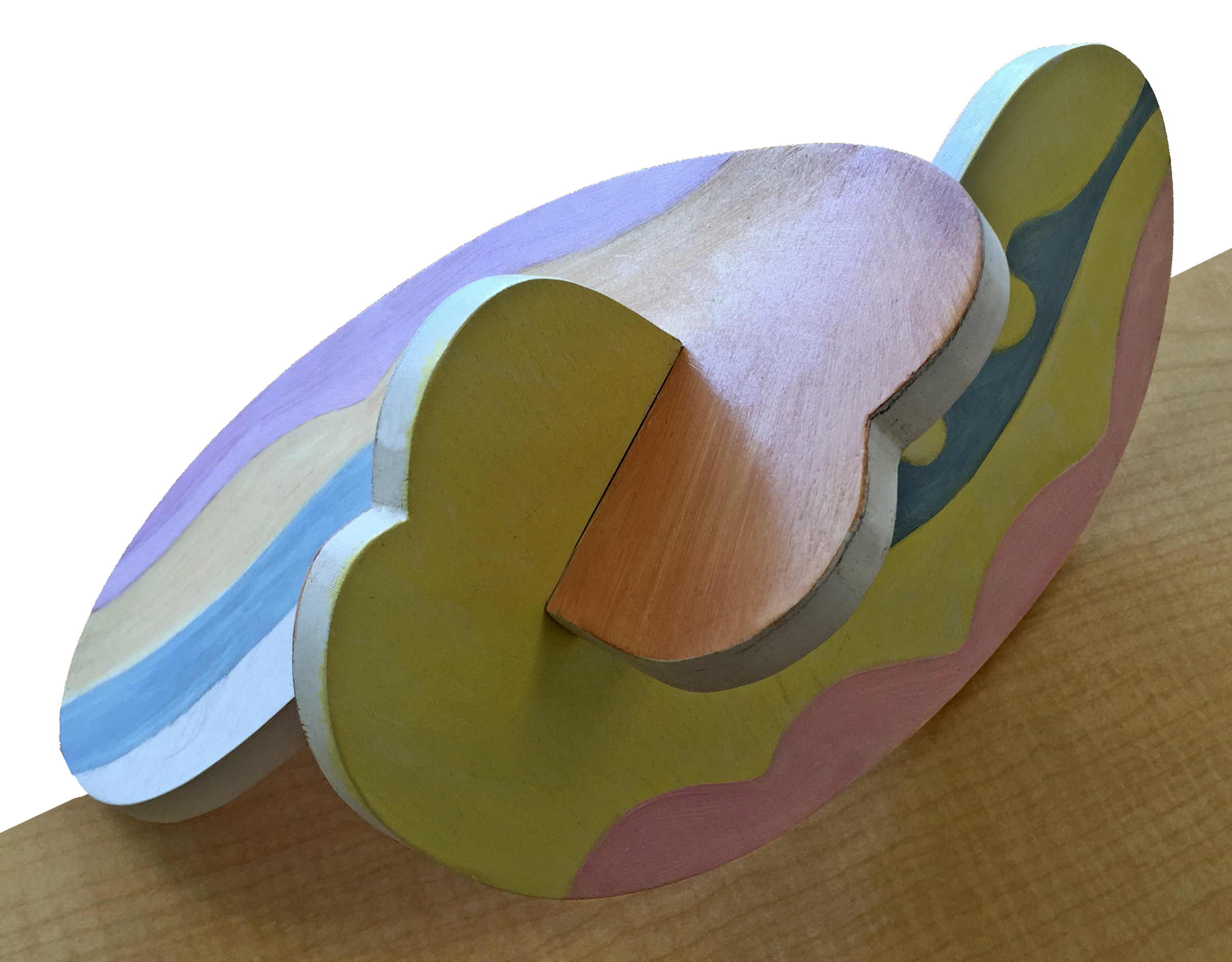 • Joanna Morrison, "Roleypoley"
Christine Stovall
's new series of work is called "
Fowl Play
."
"My latest oil paintings and clay wall hangings are inspired by my 2014 summer visit to South Africa," Stovall said.
During the 24-day trip she visited the Cape with its beautiful ocean and bays, several animal parks, Addo and Kruger National Park, trekked through the Drakensburg Mountains and visited the countries of Lesotho and Swaziland. "My husband and I came home with thousands of photos and memories," she said. "These experiences became inspiration for my paintings, reflecting the beauty and serenity of the ocean, the untamed landscapes and the animals' harsh lives."
Traveling intensifies and informs her work, she said. "In my current show I focus on the many exotic birds I saw in the wild. You will often see an unusual bird in a thorny desert bush. These often colorful birds along with the tangle of brush create unpredictable lines and repetitions that push into abstraction. I enjoy the recognizable image juxtaposed next to the abstract. It gives me the freedom to enjoy the organic quality of the foliage and the fluidity of the paint."
Stovall has lived in the Frederick area for thirty years. She was an art therapist before becoming an art teacher at Walkersville High School, where she has taught for twenty years and is the Visual and Performing Arts Chair. Stovall has a Visual Arts degree from the University of Maryland and studied at the Corcoran School of Art and Design independently for many years. Her work is in collections across the U.S.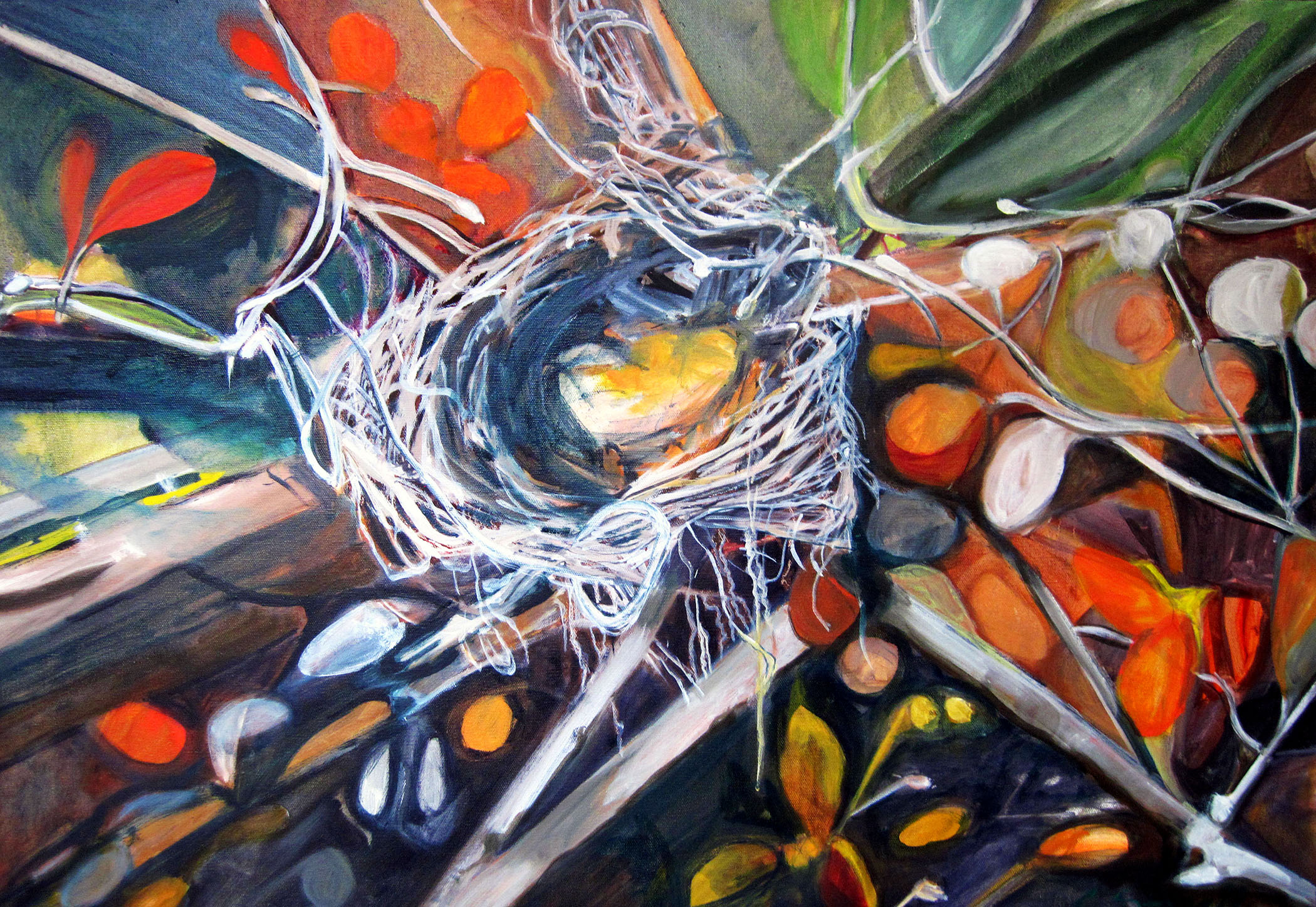 • Christine Stovall, "Empty Nest"
Both shows, along with a group show of new work by the cooperative's members,
will open on Friday, May 1 with a reception from 5 to 9pm during
First Saturday
on May 2.
TAG, now at 216 North Market Street, Frederick, is open Friday-Sunday, noon to 5pm.
Learn more at
theartistsgalleryfrederick.com
or 301-696-8187.