February 10, 2016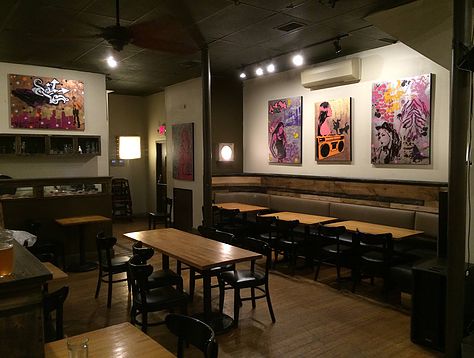 Everyone has their own "playlist" that inspires them. In March we'll be celebrating the transformation of audio into visuals. We're looking for the way that music inspires your artwork, maybe it's a musician, instrument, music venue, or a certain song. How does music influence your work?
I'm happy to announce that we're open for submissions for "Playlist" at Cafe Nola!
In March, 2016, your work could grace the walls of Cafe Nola in Frederick, MD. Never heard of Cafe Nola? It's Frederick's premier hub for visual art (also great food, drinks, and music).
-Submissions due February 18th (selected artists will be notified before February 20th).
-Group show curated by local artist Watson
-Competition is open to amateur and professional artists and photographers who are 18 years and older, residing within a 50 mile radius of Frederick, MD.
-$5 entry fee PER SUBMISSION.
-Artwork must be in a 2-D medium.
-Artwork must be under 36 in. horizontally.
-Artwork must have been completed by the artist within the past 2 years.
-Artwork must be ready to hang.
-Files must be in JPG format.
-Files may not exceed 2MB.
-Not all artwork will be chosen to show.
-You will be notified only if your artwork is accepted to show.
Bringing a new visual art experience for a Frederick favorite!
Submit your work here ($5 charge for each submission): tinyurl.com/cafenolasubmit